A Beach For Every Vibe
If you've made it to Puerto Escondido, Oaxaca, then you're probably interested in exploring the beautiful coastline. And lucky for you, there is certainly a beach for every type of traveler. 
You may have heard of Zicatela, the beach that is world renowned for having some of the biggest waves and hosting some of the best professional surfers. What you may not know, however, is that there are many other beaches close to Zicatela that are perfect for swimming, snorkeling, or sunbathing.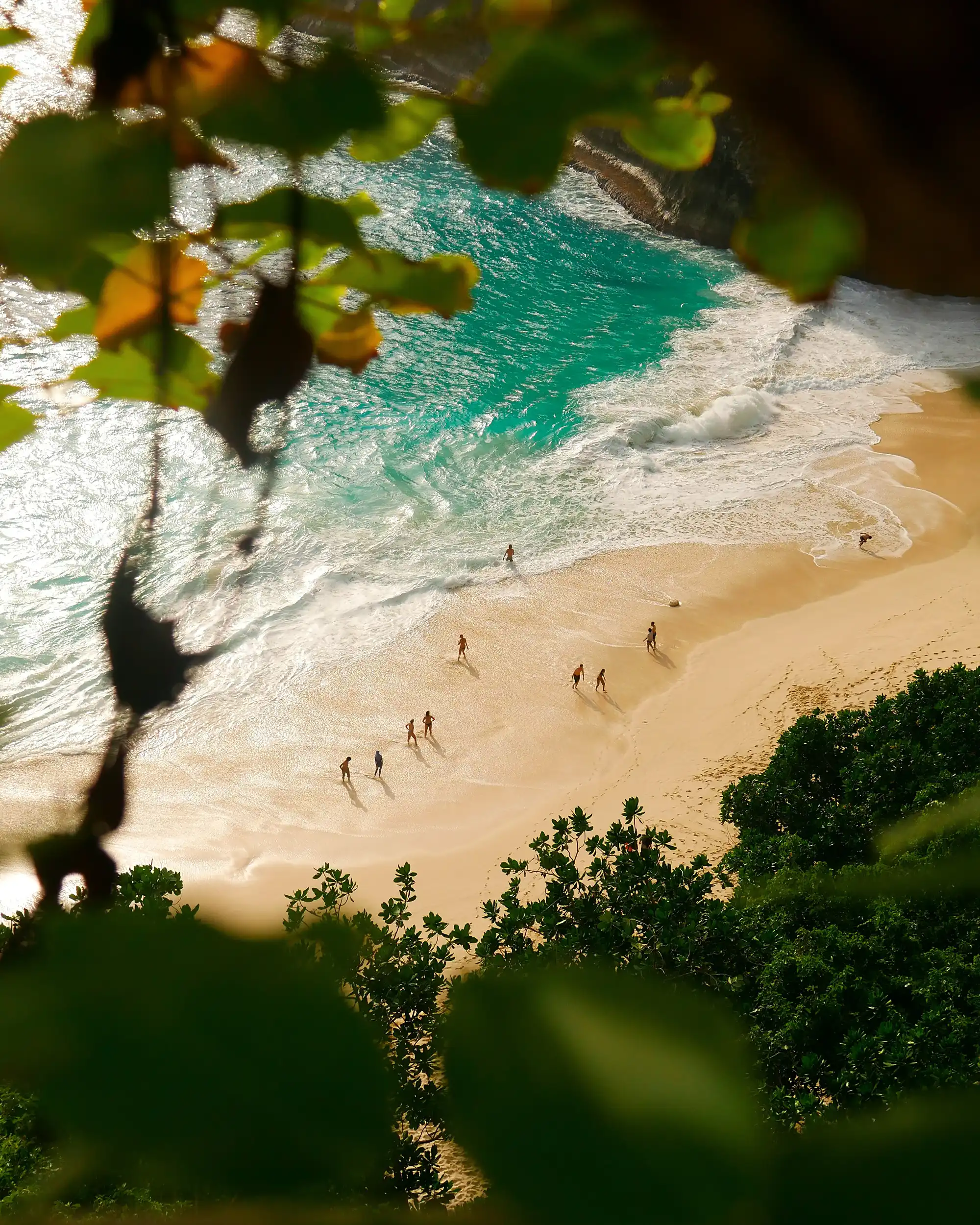 Playa Bacocho is quite possibly the least developed of all the beaches on our list. The coastline is covered in the natural fauna and, hopefully, it will stay that way. However, the surf can get pretty rough. While there is a lifeguard on duty at the entrance to the beach, be careful if swimming here. There are often big waves, strong currents, and rip tides.
Bacocho is most known for the release of the baby sea turtles almost every day at sunset. The program is run by Vive Mar, an organization working to protect and increase the population of the endangered sea turtles near Puerto Escondido. Each night they patrol the coastline where sea turtles lay their eggs, in order to protect them from any natural or human threats. 
Playa Coral is a beautiful cove where you can swim, snorkel, and just pass the day soaking in some rays off the beaten path. The water is often calm, however, when the waves are big in other beaches, it can get big in Coral for the inexperienced ocean swimmer.
Playa Coral can be reached in a couple of ways. You can head to Bacocho, walk left from the beach entrance and then cross over the rocks to arrive at Playa Coral. The walk can be a little slippery depending on the time of the day, so tread carefully. You can also access Playa Coral from Hotel Villa Mexicana. However, they do charge a fee of $100 pesos which includes a drink.
If you google Puerto Escondido, you'll probably see images of various breathtaking photos of a turqoise colored cove, taken atop what seem to be endless stairs. That's Playa Carrizalillo, the beach located right behind the well-known area, Rinconada. It's one of the most popular beaches not only because of it's awe inspiring entrance, but also because the waters are calm and good for swimming. If you keep your eyes peeled you may even catch sight of a sea turtle swimming below you. 
Playa Carrazilillo is a great spot for those looking to learn how to surf. Lessons are offered all day. The beach can get quite crowded during the high season, so be sure to get their early to scope out your slice of sand. There are palapa restaurants so you can spend the whole day there.
Playa Manzanillo and Puerto Angelito
These are technically two different beaches, but they're located within the same cove. Puerto Angelito is the port side where you'll find most of the boats docked. Playa Manzanillo and Puerto Angelito usually have a family friendly atmosphere. There are beach restaurants where you can order food and drink. 
Playa Manzanillo has some great snorkeling. If you swim towards the rocks, you'll find an array of brightly colored fish. The waters here, like in Playa Carrazilillo, tend to be the most calm waters in town. So, both these beaches are great swimming options.
Playa Principal is the main port in Puerto Escondido. You'll see fishermen heading out or arriving throughout the day. If you get there early in the morning, as the sun is rising, you can even buy their fresh catches from the previous night straight off the boat. 
You may notice this beach gets especially crowded on Sundays as many local families tend to come to spend the day together here.
Directly next to Playa Principal is Playa Marinera. How to tell the difference between the two? Well, you've hit Playa Marinera once there are no longer any boats docked in the ocean or on the beach. 
You'll notice many bodysurfers and boogie borders catching some waves. The size of the waves depend on the time of the year and the swells; however, it's much calmer than its neighboring beach, Zicatela.
Also referred to as Mexpipe, Playa Zicatela is best known for its huge waves. The high surf season goes from May through September. However, these waves aren't for the novice surfer. Only serious surfers should take on riding these waves. 
If you visit during the surf season, you may be lucky enough to catch a big swell. Often, the best surfers fly down to ride the waves during this time. You may even see a big surf competition. Many people come to the beach in the morning, with a coffee, to watch the show. It's quite an impressive sight with some of the best surfers in the world.
La Punta is literally located at the point of the beach. If you continue far enough down Zicatela, you'll hit La Punta. It's another great spot to learn how to surf. When there are large swells, you can also get some bigger waves where more advanced surfers can have some fun. 
Swimming is possible in Playa La Punta, however, it's not as calm as the coves on the other side of town. Depending on the day, there can be large waves and a lot of current. However, more than the surf and the swimming, La Punta has its own unique vibe that you'll just feel upon entering. 
At one point, La Punta was home to laid back surfers, and a few wanderers looking for an escape. However, now, you can't go far without hearing the thudding of house music and seeing trendy boutiques. It's the perfect place to go to for a beach sunset that feels like a party. You'll likely catch some hoola hoopers, impromptu, acoustic beach musicians, and maybe even a fire performer. 
Which beach is best in Puerto Escondido?
That is a question that we'll leave you to answer. There are many beach options that are suitable for different needs and preferences. But, one thing is for certain: there is a beach in Puerto Escondido for everyone. 
While we certainly have our favorites, yours may be different. Do some beach hopping during your time here and discover your "perfect Puerto beach."